There's nothing worse than letting people down.
Except drowning them. And, for the last few weeks – since starting The Big, Mad Swim Around Britain on April 24th – those have pretty much been my options.
Option One: Continue with the plan (bear in mind, the plan was a year in the making, involved five people and all available savings). Keep having panic attacks in the sea. Rely on team to drag me out of water. Risk team's safety every day.
Option Two: Admit defeat. Pull carpet from under pride and suffer the fall to come. Face up to reality of failing, even when trying my hardest. Tell people that I just couldn't do it. Bear their disappointment.
I'm ashamed to admit it took more time that it reasonably should have for me to cut through the muddle that anxiety was making of my mind, and boil things down to what they actually were: one option, one face-saver.
In truth, I was crumbling, falling back into old patterns from which I could only fashion a pathetic costume of a person. I was already avoiding people, clinging to 'safe' places, and begging those close to me to do the same. The smallest shifts underfoot unnerved me, and I was crying more than I wasn't. Everything was changing; there was no longer a rock for me to cling to, since even the very floor beneath my feet rolled with each passing wave.
All the while, every sea swim was being lived in three parts.
The preamble: Anxiety taking hold, as I struggled to keep things in perspective long enough to remember why I was doing this in the first place. Organising and reorganising my kit as a way of controlling even the smallest facet of the situation. Beginning to twitch again, blinking and flinching; having nightmares about drowning that bled into reality. Background stress limits setting off nearby Geiger counters.
The swim itself: Gasping for breath, trying to calm my stroke as Maria (my ever-patient support kayaker) cheered me onward each time I pulled up for air, just seconds before panic immobilised me completely. Begging my brain to quieten, to stop reminding me how scary a place the sea really is. Constantly, desperately afraid.
The aftermath: Cowering on a support boat on which I could never find calm. Isolating myself from everyone, in order to minimise their exposure to the pitiful shadow I had become. And worrying; fretting instantly and incessantly about the next one; the next time I had to leave the known fear of the boat and clamber into the unknown terror of the water.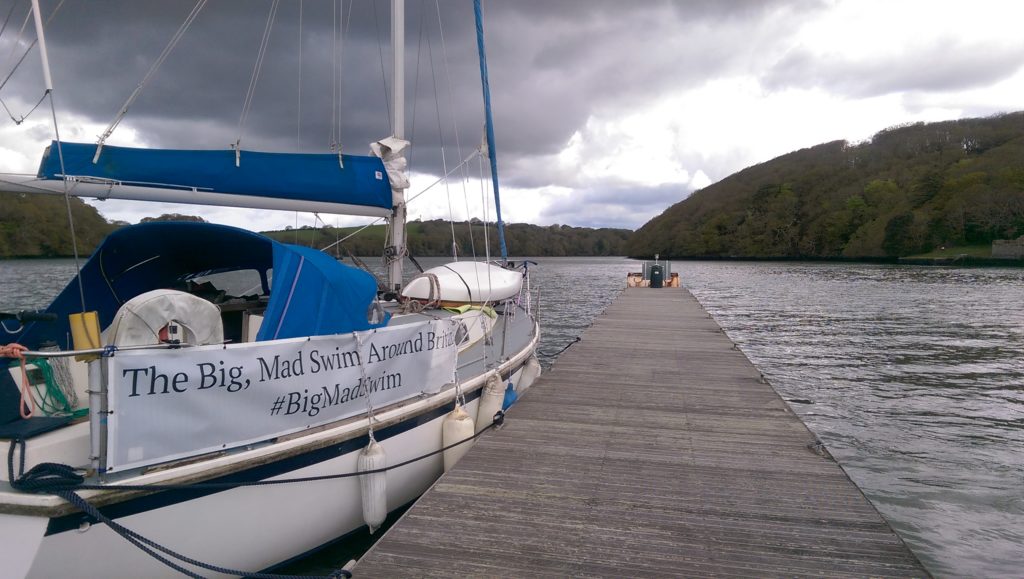 There was just no let-up – not a flicker of comfort on which to anchor the sinking ship of my mental health. You see, I can face fear. Only a few short years back I wasn't able to walk over a bridge without dissolving into a puddle of tears, in which, ironically, I could have drowned. These days, I'm a half-decent swimmer with some three-quarter-decent distances under my tow float, and I wouldn't have made it here without forcing myself to move forward even while terror was tugging on the reins.
But in order to overcome a fear, to learn from facing it down and move towards healing, there has to be respite. There has to be time to recover from the heightened stress on the body, to rest and restore and allow the brain to absorb the lessons learned. That way, next time, the brain remembers surviving the experience and can be convinced it will survive again – probably.
Living on a sailing yacht afforded me no respite. Time spent in the sea was bookended by time spent on the sea, so that even rests were steeped in anxiety. It was bad, but necessary, planning on my part. There were sections of the swim that simply wouldn't have been accessible without the boat, and I hadn't realised just how exhaustingly frightened I would be every time the boat was moving… or stationary… or anywhere in between.
So there it is, the end of the swim – and a whole new challenge ahead. A challenge not only in making The Big, Mad Splash Around Britain something worth doing, but also in living with this new version of myself: the one who tried to swim around Britain and didn't succeed. Every day since stopping, I've had the same thought: maybe I could have continued, pushed through until I broke, kept my ego intact and avoided the sting of letting people down. At least my headstone would have said World Record Holder, right?
Instead I chose to be a failure. I tried, I gave it all I had, and I failed. And, you know what, I think I'm probably alright with that too.