Pardon my grammar but I'm no athlete. I don't have the fitness levels, the attitude, or the figure for leotards. I once almost caught athlete's foot but the proud fungal infection wasn't willing to sully its good name so passed me by for a jogger with potential. As I said, I'm no athlete. So any sport that demands three times the athlete is three times as beyond me.
Triathlon: swim, cycle, run. Or in my case: drown, tumble, crawl. I was triply uneasy about this one.
But, once I'd ironed out the frown lines and released the fluttering Lepidoptera from their gastric prison, I remembered two things that might act in my favour. One: I'm an incessant trier, without discrimination or forethought. And two: I'm a huge fan of homophones. So all at once the scary triathlon became my own try-athlon and suddenly I was back in the game. Okay, optimism and word play weren't going to keep me afloat, astride or a-running but they were enough to spur my registration for Leonard Cheshire Disability's award-winning Tri Together event. And I never looked back: mainly because my neck hurt from all the tension.
Learning to swim has been the most frustrating journey of my life so far – and I've travelled to America, for a weekend, during a three-day blackout, for a farewell tour of a band who have since made two albums. Aquaphobia, childhood trauma and plain old-fashioned fear have plagued my relationship with water for longer than I can remember and, given that bridges featured heavily in my worst nightmares, I wasn't easily convinced to start building them. I've splashed, strived and stressed through my lessons, edging myself to the limits of nerve and energy. Over the past few weeks, I've been in the pool so much that even my teeth are turning prune-like, and although some real progress has been made – I can now swim independently until air is needed – I was still underwater the day before the triathlon, trying desperately to master front crawl breathing. But it wasn't to be and, in spite of all my efforts, I finally had to admit that the only way I would be joining in the swimming section of the triathlon would be with a float for stability. And the kind people of Leonard Cheshire didn't argue.
I should explain: Tri Together isn't an ordinary triathlon. No, they haven't dropped the swim in favour of tiddlywinks matches or added stilts to the run section – it's the overarching outlook that makes the difference. The event is a conspicuously friendly affair, with kids, adults, disabled and able-bodied competitors all racing together and, while triathlon has its elites and stalwarts, several of whom – like the amazing Jane Egan – joined in, it also has its terrified beginners, whose quivering forms made up over half of the participant roll. Tri Together then isn't just a clever moniker, it's also a theme carried throughout the process from encouraging registration emails to friendly taster sessions to the invaluable support provided at the event itself.
Training for the run and cycle portions of the event each presented problems – falling and lung burn in particular – but these were alleviated greatly by a notable addition to my regime: my tri-training partner, Helen. Meeting Helen at the Tri Taster session organised by the charity, during which we both looked completely ill-prepared, really turned my training schedule from Rocky the biscuit to Rocky the boxer. Helen suffers from Ehlers-Danlos Syndrome, a debilitating genetic condition that makes her joints hyper-mobile and prone to dislocation, and can cause her to tire quickly and overwhelmingly. Although, maybe I should say that Ehlers-Danlos Syndrome suffers from Helen because she just doesn't give the poor connective tissue disorder a chance. Swimming, cycling, running, in theory, should have been hard going for someone with EDS, but most Fridays since the start of August you could find Helen and me laughing our way around Bellahouston Park, hopped up on stress and sports gels. And the training – and laughter – made a real difference when event day all too quickly rolled around.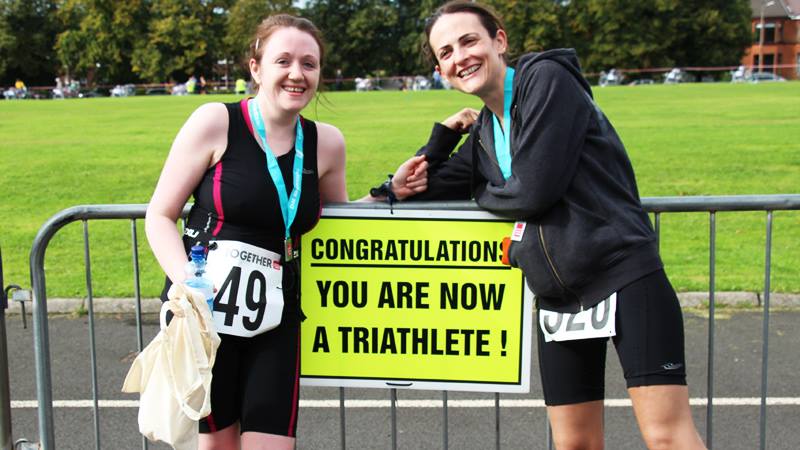 There's little point in me trying to describe my feelings on that Sunday morning as I donned my all-too-tight tri-suit and shuffled in to register in the well-manned sports centre. In spite of the fact that I hadn't thought of much else in the weeks leading up, I just didn't feel ready for the ordeal that was to come. And as I watched fellow participants slap on their colour-coded swim caps and slip enthusiastically into the pool, I clung tighter to my pretty pink float in horror-movie terror, praying that the metaphorical killer didn't find me trembling in the cupboard.
I'm not typically disorganised but trying to make sure that all equipment was in the right place was like wrangling a pantomime of frogs. Luckily, there were plenty of volunteers, approachable Triathlon Scotland staff and well-placed signs to help panicked beginners understand the triathlon filing system. Here's the gist: 'transition' is where cycling and running paraphernalia are carefully placed – or, for me, wilfully abandoned – to be retrieved at the appropriate point in the race. Proper triathletes take transition very seriously and lay their gear out methodically, in order not to lose any time on finding or fumbling. Personally, the ever-so-brief rest between punishing swim, cycle, run elements was my Godsend – and at no point was I in a rush to leave the refuge of transition behind!
At 11:42, it was time for me to take my place in the pool. For everyone's safety, I was given a lane of my own and an incredibly kind volunteer jumped into the water to swim beside me, providing me with the impetus I needed to struggle through 150m of the 400m swim with my float. I was pleased beyond measure; well, I was 150m pleased, I suppose. Swim time – 12:33.
Barefoot and soggy, onto transition and just time to fasten my helmet, slip on my elastic-laced trainers and race belt, and have a nice wee chat with one of the nearby volunteers before walking my bike to the mount line. Like I said, I was in no hurry to move on. T1 – 01:38.
Seven laps of the cycle course, tackling tight corners, a minor hill and several meandering dogs in the still-open park. Almost dry by the time I returned to the dismount line, although windswept and knackered isn't quite my best look. Cycle time – 30:28.
Back to transition to re-rack my bike and helmet, slug down some electrolyte-heavy sports drink and massacre a few jelly babies and I was onto the final stretch. T2 – 01:33.
Run, run, run, run, run, run is the only insight I can give to my thought process as I dragged my sorry form along the 4km course to the glorious finish line and my shiny new medal. Rubbery legs and dehydration kept the stage interesting, if not entirely pleasant. Run time – 26:05.
Crossing that final timing map to the cheers – and tears – of my family and friends was like nothing I had ever experienced before. Pride, joy, relief and probably a hint of mania flooded my body, masking the fatigue using, I imagine, the same chemical mechanism that helps women forget the pain of labour. Hearing my loved ones, the marshals and spectators, and the wonderful John Dargie of Fusion Triathlon Club (the day's commentator) calling my name as I dragged the jumble of wobble and angle purporting to be my body across that line was incredible and worth every second of panic, every ounce of energy and every trickle of self esteem lost.
And there it is, 1:12:21 for my first triathlon and a not-too-embarrassing 53rd place. Of course, I only endured 6 of the 16 swimming lengths but, for a non-swimmer with a history of drown-aphobia, just getting into the water was traumatically time-consuming. My fabulous training partner, Helen, secured a time of 1:15:29 (and she did the full swim too!), placing second in the female disabled category and earning herself a much-deserved trophy. Well done, Helen!
Overall, my triathlon experience was, I suppose, surprising. I can't say it was wholly pleasant as there were moments, nay, days, during the last few weeks of training in which drowning on one of my three million trips to the leisure centre would have been sweet relief. And, of course, it was disappointing, after all that desperate effort, to leave the pool after only six lengths. But for a water-fearing, non-runner with very little cycling experience, a triathlon was always going to be a challenge; one, it turned out, that I met, embraced and, for the most part, loved. So what if, technically, I achieved a Did Not Finish on the swim leg? Are we really going to quibble over 250m and three measly consonants? DNF: Did Not Finish; Does Not Fear; em, Drag Net Fishing.
I trained, I tried, I triathlon-ed – and, when the time, came I Did Not Fail.
Paula.