I've never been accused of acting the goat. When all the other children were channelling their inner billy, I was always the troll: hungry and hiding beneath the nearest sturdy structure. So when I recently had the chance to stretch my boundaries – and my spine – and join in the fun with some real-life pygmy goats, you couldn't stop me with a crook and a cattle grid.
The joys of goat pilates were brought to Scotland by Edinburgh's Pilates Attic earlier this year, whose sessions remain the country's only opportunity to practise planking with a nanny – unless, of course, your au pair is the adventurous type. Based on Bellcraig Farm in Fife, for ease of commute for the goats, the classes run on Sundays in a cute cottage with wipe-clean flooring and enough treats to keep a kid going.
I'll admit, I signed up more for the goats than the pilates, since this city dweller takes any opportunity to e-i-e-i-o her way around the countryside. And I wasn't disappointed. Even before communing with the goats, I had shooed sheep, chuckled at chickens, and clapped collies. Throw in a cuddle from a koala and I might never have come home.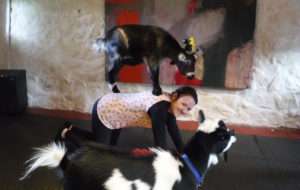 Bellcraig is home to four pygmy goats, three of which were our training buddies for the day. Mabel and Hazel are now seasoned fitness gurus, while Fergus is still finding his hooves in the arena. You wouldn't think though that any of the little ruminants had ever known a world without instructor Jo's pop-up pilates, as they didn't take much persuasion to jump on our backs, scamper through our legs or generally get involved with whatever random position into which we contorted ourselves. Naturally curious and blessed with balance and agility, unlike this oaf, the young goats seemed perfectly suited to the gym life, although Farmer Holly had more than a little work to do keeping them completely to the programme. In spite of her input and the adorable horn-protectors, fashioned from pipe insulation and tape, there was probably still more head-butting than at your average exercise class – even in Glasgow.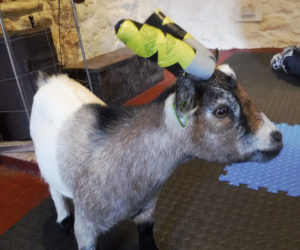 I'm sure you still have lots of questions – why goats? how would I explain the hoof prints to my wife? what even is pilates? – but, really, the only thing you should be asking is when's the next class?
And, if you're anything like me, can I keep a goat in a third floor flat?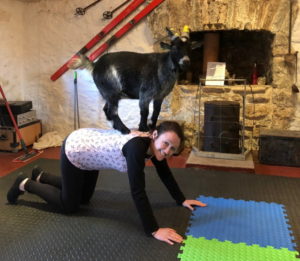 To give pygmy goat pilates – or regular pilates! – a try, book a class at The Pilates Attic.