Running, catching the breeze, wings inflating, a little lift and then…  It's my turn again.
Everyday adventures can take you anywhere: the park, the radio, the buff. The sky, apparently, is not the limit.
But it was for my recent efforts for Herald Scotland as I stood on a chilly hillside, wearing one fewer than enough layers, with a rainbow of parachute strapped to my back.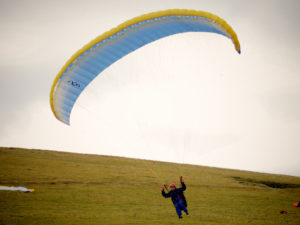 Clearly I survived, but did my pride, my reputation, my instructor? For the full story, check out my Herald blog.
Huge thanks to Cloudbusters for keeping me safe!