I've never been part of a pack. I'm not a natural leader, and bringing up the rear doesn't have great appeal, meaning that me and myself have often been the only company I keep in life. For that reason – among others that included dogs, cute dogs, and lots of cute dogs – I couldn't resist the opportunity to head to Bowland Trails for a husky ride, and to see exactly what life in a pack really means.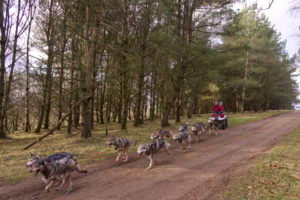 Bowland Trails, a 220-acre farm near Blairgowrie, is home to Mary and John Carter and their family. And when I say 'family', I mean three generations of humans, 51 dogs and a partridge in whatever tree species is indigenous to Perth and Kinross. Between them, Mary and John have more World, National and European sleddog titles than I have insecurities about my comparative lack of talent. Although you couldn't be judged for being oblivious to the couple's achievements, as The Carters have that understated class about their success that only comes with being very, very good at what you do.
Since I have neither class nor reason for it, I won't even pretend to be able to sum up the husky ride experience in a 581-word blog post so instead, here are just a few of my personal highlights from what was an extraordinary day of bull-brushing and dog-mushing:
The release: nothing quite builds the tension like perching on a stripped-back quad bike, strapped to 10 very keen dogs. One flick of the quick release and we were away, faster than I could say, 'I should probably go to the toilet before we…'.
The warmth: before you quibble, yes, I am talking about warmth in a post about Perthshire in January. But you don't need a scarf when you have welcoming hosts, hearty laughs, and a cuddle with Drake, the four year-old Highland bull, to warm up even the coldest day.
(Please note: take a scarf anyway. It's winter in Perthshire, people.)
The wildlife: aside from the herd of cattle and horde of dogs, Bowland also offered up sightings of buzzards, fallow deer and Hebridean sheep, as we hurtled around the trails. I just had to keep my eyes open long enough to see them.
The mud: for the purposes of my sanity, anything brown that flew up and landed on my face during the husky ride will hereafter be remembered as mud. But really, if you want a nice, clean afternoon, just stay home and have a hot bath because what you're signing up for with Bowland Trails is a thrilling, life-affirming, slightly mucky experience – and it's well worth the extra freckles. Besides, skin is, for the most part, washable, folks.
The respect: I'll be honest, for the first five minutes of my husky ride, I was looking for the reins. Not to take them – God, no, I barely have a hold on my own direction in life, never mind that of a bunch of huskies. It's hard to believe Mary controls them only by voice, until you hear her change their course with one word and realise just how much respect they have for her. And it is entirely mutual. John was quick to correct my assumption that their beloved huskies are working dogs only. They're pets and part of the family, and you only have to spend time fussing over the dogs at the water stop to understand why.
For your own husky ride experience, visit Bowland Trails or contact Mary at info@bowlandtrails.com.