Picture Glasgow. What do you see?
Beautiful grey skies leaking drizzle onto tenement roofs? Streets ringing with the echoes of gang violence and football bigotry? Shops advertising Irn Bru as one of your five a day (well, it is orange)?
Or, more realistically, a city that oozes culture and creativity, and has worked tirelessly to shake off its hard-man image and paint a truer portrait of warmth and welcome?
Not bad.
But a hub of science and technology; where sharp, industrious minds come together to innovate, inspire and invent? Your mind's eye could be forgiven for completely overlooking that part.
Like most Glaswegians and visitors to our shores, I've spent rainy days and Mondays in the Science Centre since its doors opened in 2001, being wowed by its planetarium, confused by its fancy sinks, and disgusted by its smoker's lung. Well-used by families, school groups and rain-dodgers alike, it's not hard to see the impact that having our own dedicated science facility could – and is sure to – have on generations of young minds and old.
But only on my most recent trip to the centre, to join the ranks of professionals as a scientist for the day, did I realise what science actually means to and for the city, and how Glasgow's long history of scientific discovery has impacted on our nation – and the world at large.
Becoming a scientist for a day wasn't exactly my easiest challenge so far. Science, after all, is everywhere and in everything, and that's a lot of where and thing to cover in just a few hours. Luckily for me, Glasgow City of Science has a wide remit and a big heart.
Housed in the Science Centre but distinguished in its own right, Glasgow City of Science is a partnership organisation aiming to boost Glasgow's profile as a powerhouse in science and share the benefits of that success with the people within the city walls. Working alongside such agencies as CoderDojo Scotland and the Royal Conservatoire, Glasgow City of Science has already helped deliver projects that bring digital making to young people and art-science to the masses. In short, they're good guys in lab coats.
To spark off my day as a pillar of science, I joined OPAL Community Scientist, Joanne Dempster, for a lesson in lichen. Yep, lichen. Apparently that colourful stuff that, unlike money, does grow on trees not only brightens up a landscape but can also say a thing or two about air quality. Joanne first taught me to identify several types of lichen, examining their different forms under a microscope. Afterwards, I put my new skills to the test as we stalked around by the river, inspecting pretty sycamores for the good, the bad and the indifferent of the lichen population. Back at base, reporting our findings on the OPAL survey website felt like a real rounding off of my first exploits as a scientist. By midday, I had carried out research, reached my conclusions and delivered them back to a wider scientific community. Science in action, folks; science in action.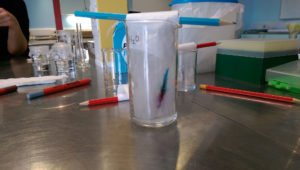 After losing my rain coat and ditching my wellies, I joined Dr. Katy Mould for a master-class in chromatography. We separated out the compounds in black ink markers and chlorophyll, using standard coffee filters and heady cocktails of acetone, petrol and water. The resulting display was a rainbow of colour, which will hang on my wall forevermore; a pretty reminder that even the darkness has colour underneath.
An adventure is never complete without a little drama, and the stars of the Science Show Theatre provided just that, as they entertained a full-house audience with a wonderfully messy production of Blood, Bile and Body Bits. With a bag full of intestines and homemade poo, it's just as mucky as it sounds. I ooh-ed, ahh-ed and retched with my fellow viewers, and even managed to nab a cameo role as the flatulence mixer, demonstrating the dangers of wind build-up on an unsuspecting stomach. Three, two, one… POP.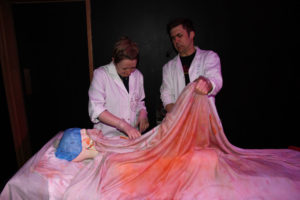 Without doubt, the most surprising part of the day was my final activity as a scientist. With the help – and infinite patience – of Dr. Martin Goodfellow, I spent the afternoon learning to programme Lego Mindstorm vehicles to move in the direction of my choosing. Okay, the vague direction of my choosing. Mastering forward and backward motion was difficult enough for this complete novice* but by the end of the session, when the tracks were laid and the infrared sensors broken out, my own little Lego buddy did a fair to middling job of navigating its way around the colour-coded paths. He struggled to toe the line at times, but free-spirited sentience is what you want in a robot overlord, right?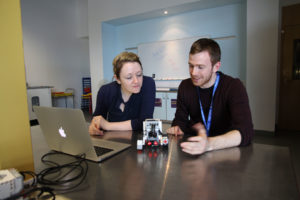 Glasgow then is many things to many people, and all things to some. And with a rich history of scientific achievement that spans medicine, programming, space technologies, engineering and all the rest besides, there's no reason the city can't have a future as the world renowned base of science it has long deserved to be.
So close your eyes and picture Glasgow now.
Hydrogen storage in the west end.
Satellites spawning down by the Clyde.
And rain driving down upon all of it.
Well, some things even science can't change.
Paula.
*For novice, read fool. For fool, read complete fool.