Failure can be a very hard pill to swallow; particularly when that pill is coated in sea water and wrapped in thirty years of social anxiety.
When I failed to finish – or even properly start – The Big, Mad Swim Around Britain there were consequences, of course. There was still a six-month plan to completely dismantle, a team to beg for forgiveness and a new reality to face. Not to mention, a boat that needed selling and a hell of a sum of borrowed money to be repaid. But one of the most touching consequences was the reaction from friends and strangers alike: an outpouring of kindness, urging me to remember that I hadn't failed, only changed the plan or learned.
Of course, I agreed; failure only really exists in our attitude towards it but, for me, it was particularly important to embrace the dictionary definition of the word and call the swim what it quite literally was: The Big, Mad Failure. After all, I had set out to do something and hadn't managed. Boiled down to its bones, that's failure – and I'm alright with that.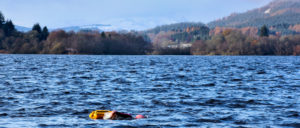 The reason it meant so much for me to insist that I failed is that an overwhelming fear of failure had always been at the very root of my anxiety, off which all my various other worries and insecurities branched. And to be able to face failure – on quite a grand scale – was somehow heartening. There I was, an unmistakeable failure, and life continued. Sure, some folk had more to say than I'd have liked but don't they always? Otherwise, the world remained undisturbed by my catastrophic underachievement.
NOTHING BAD HAPPENED.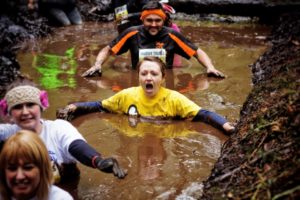 I can't quite describe just how freeing that is: to harbour a fear since you were four years old and finally discover that even though it swamps, it doesn't sink you. Of course, that got me thinking, what other fears am I still lugging around with me unnecessarily? God knows I already have enough to carry. Maybe if I took them on, they would prove just as needless baggage. Fear is a great motivator, after all. Unfortunately all it ever motivated me to do was crawl under a blanket and pray for suffocation. But it's time to leave the safety of my den and push myself just that little bit further than ever before.
Based on three decades of abject terror then, here is the complete (unless I've forgotten something) list of my life's greatest fears, through which I'll be working my way over the next year.
1. Failure – TICK!
2. The dark
3. Public speaking
4. The great outdoors
5. Pain
6. Deep water
7. Storms/extreme weather
8. Rejection
9. Falling
10. Change
Follow me then as I take on my Year of Fear challenge, facing my nightmares one by one, and finding out what I should be scared of – and what I really shouldn't.
Please note: These are fears, not phobias. My only phobia on this list was deep water, which I've been tackling in various different ways over the last few years. I am in no way suggesting that phobias – or even anyone else's fears – should be confronted in this manner.