Recently, as I stood in my stocking soles in front of a sell-out crowd in Glasgow's Tramway Theatre, readying myself for the scariest five minutes of my adult life, I finally shrugged off the bonds of anxiety and exposed myself to the world.

It was Friday, it was TEDx Glasgow, and I was on the menu.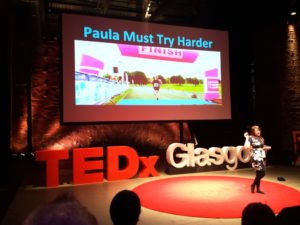 600 people, countless cameras, and this idiot, shoeless and clueless, on the iconic red spot that so many greats have tread before me.
I spoke stress, sports, and stripping for strangers, and you can read about the whole scary process in my first column for The National.
Paula.